New retailer study shows how attitudes have changed towards price optimization since 2019
Fueled by increased competition and the disruptions of COVID-19, more retailers are turning to next-gen solutions to navigate new playing fields and meet heavy consumer demands. A recent study by RIS News, sponsored by Revionics, reveals new retail industry innovation standards around price optimization solutions, including technology maturity, pricing challenges and price change frequency.
However, what I find most interesting about the findings is that we also commissioned a similar study back in 2019 with RSR. Of course, we all know what happened between then and now: a global pandemic. To say that the retail landscape changed between these two studies would be an understatement. So, let's take a look at how retailers' responses towards pricing, pricing priorities and AI-driven pricing evolved in that time.
Retailers' top pricing challenges
In 2021, 61% of retailers cited consumer price sensitivity as a top pricing challenge, and 53% cited increased pricing competition. While in 2019, these challenges were flipped. Increased pricing competition took the #1 spot, followed by consumer price sensitivity.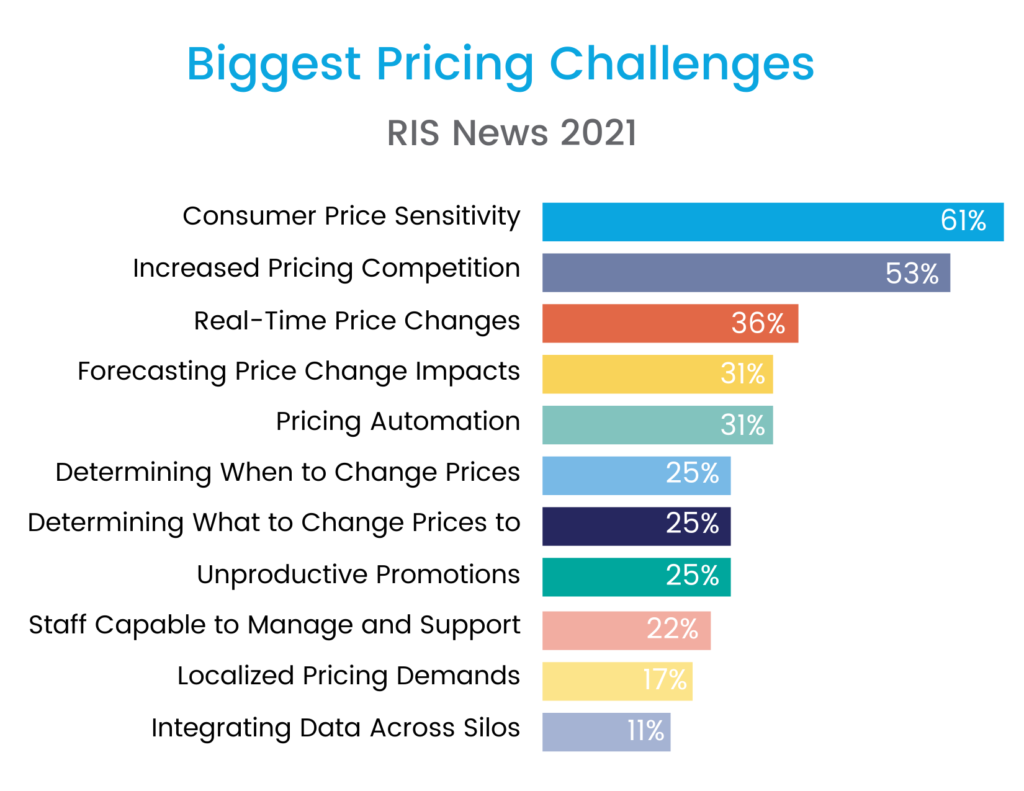 We can probably assume COVID-19 is to blame, at least in part, for this swap. With many consumers facing financial impacts from the pandemic, plus the inflation in the current economy, shoppers are watching their spending a little more closely. Not to mention, the immense digital growth since 2019 has contributed to a heightened price awareness and the ability to more easily compare prices across brands and channels.
Another interesting stat to come out of the recent RIS News study was that real-time price changes was the third biggest pricing challenge for retailers today (36%). Now, I don't have a direct one-to-one stat comparison here. But I can tell you that real-time pricing was not a huge part of the conversation back in 2019, due to a fear of how it would be perceived by consumers.
"In the past, retailers had been cautious of real-time price increases due to a certain perception created by the airline industry," said Revionics VP Managing Partner, Global Strategic Consulting, Aditya Rastogi. "But now more retailers are realizing that while airline pricing is about maximizing margins driven by demand, retail real-time pricing is about meeting consumer expectations quickly."
Where price optimization can help
And as retailers look for ways to combat these pricing challenges, it appears they now more readily see the advantages price optimization has to offer. A whopping 81% of retailers agreed price optimization can help improve margins, where in 2019 only 52% of retail winners considered price optimization a solution to improving margins.
"Retailers are constantly pressured from multiple directions to be at the optimal retail, all while giving their customers the best experience throughout the store," said Revionics Customer Success Director Edward Kuehnle. "Price optimization allows for all these pressures, key elements and strategies to be managed, and quickly identify the most optimal retails. There are simply too many variables for spreadsheets or rules-based decision making alone."
Where else are retailers seeing the value of price optimization? The study shows 69% said creating a better value proposition, 61% more efficient pricing processes, 47% improving promotions, 44% optimizing markdowns, and 31% providing more localized / personalized offerings.
Again, these numbers are generally quite a bit higher than in 2019, when only 50% of retail winners said creating a better value proposition, and 42% said more efficient pricing processes.
AI and data analytics are becoming increasingly crucial capabilities across many areas of retail operations. It stands to reason that as these technologies continue to permeate and improve business processes and outcomes, their acceptance and adoption in other areas, including pricing, will keep rising.
Obstacles to price optimization adoption
But of course, while the perceived value of price optimization has increased, a few hurdles to adoption still remain. In the 2021 RIS News study, 44% of retailers stated they did not have the technology in place to support price optimization (which, is a problem we at Revionics would be happy to help you solve).
Retailers also cited change management (38%), a lack of clean data (32%), not having the right staff in place (32%), and concern over a negative customer reaction (24%) as other obstacles to leveraging pricing strategy optimization.
Looking back at 2019, it's interesting to note that concern over customer reaction was the highest-ranking inhibitor to adoption (46%). It just goes to show how far the market has come in accepting and even expecting dynamic pricing. It is simply a part of retail today.
(p.s. - Revionics's Managing Director, Global Strategic Consulting Matthew Pavich wrote a great piece on the changing consumer perception around dynamic pricing in retail if you want to know more)
The upside here is that a retailer's biggest hurdle to adoption actually appears to be itself. Technology, change management, clean data and staff are all internal concerns that can be tackled with strong governance, value measurement and executive support.
More clarity for your pricing
The data shows more retailers are catching on to what we at Revionics have been saying all along: data-driven price optimization solutions enable retailers to grow margins and sales, improve pricing process efficiencies and better meet consumer pricing demands, all while fueling greater enterprise objectives.
Pricing optimization clearly was not exempt from the accelerated digital transformation in 2020 in beyond. Retailers that haven't yet taken the next step into price optimization need to overcome their internal challenges or risk being out-priced by competitors.
Visit RIS News to see the full results of the study, or reach out to our pricing experts today to see how Revionics can help you get ahead of the retail pricing game.